Swisscom Joins Trust Valley: A Partnership to Strengthen Switzerland's Digital Trust and Cybersecurity Ecosystem
---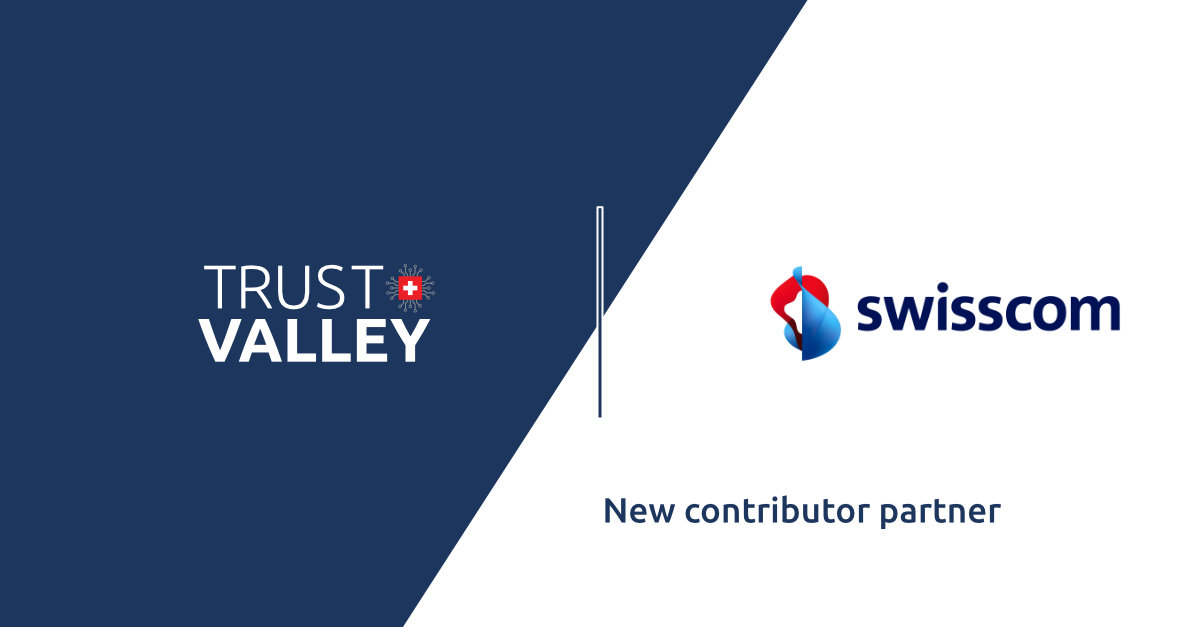 Lausanne, 28 August 2023 – We are glad to announce that Swisscom, Switzerland's leading telecom provider and one of its leading IT companies, joins Trust Valley as a contributor partner. This collaboration reinforces Trust Valley's unique trust ecosystem to promote a safe and responsible digital economy.
Headquartered in Ittigen, near Bern, Swisscom provides a full range of products and services for mobile, landline, and data communication. With a strong commitment to innovation, quality, and reliability, Swisscom is vital in driving Switzerland's safe and secure digital transformation.
Trust Valley is a private-public partnership dedicated to digital trust and cybersecurity to foster trust, innovation, and collaboration in today's digital economy. Founded in 2020, the initiative brings together 50+ partners from the academic, public, and private sectors.
Building on recent collaborations with Swisscom Outpost and Swisscom Ventures, Trust Valley and Swisscom will work on enabling the development of innovative solutions and early-stage companies active in cybersecurity and digital trust through the Tech4Trust acceleration program. This partnership will also promote the security and integrity of online transactions by leveraging Swisscom's expertise in the identification, document digitization, and signature technologies.
"Digital trust is the foundation for a functioning society that increasingly interacts digitally," explains Andreas Tölke, Head of Fintech & Digital Trust at Swisscom. "As Switzerland's leading ICT and qualified Pan-European Trust Service Provider, we want to close the missing last digital trust mile so that everyone can benefit from the advantages of a connected world in a trustworthy and positive way. We are proud to contribute to the ecosystem as part of Trust Valley," adds Andreas Tölke.
This partnership is a step further in making Switzerland a leader in digital trust. "We look forward to working with Swisscom and strengthening our relationship with all the teams. We expect to achieve our mission further and ensure safer digital growth thanks to Swisscom's reach in Switzerland and abroad," explains Lennig Pedron, CEO of Trust Valley.
---
About Swisscom
Swisscom, Switzerland's leading telecoms company and one of its leading IT companies, is headquartered in Ittigen, close to the capital city of Berne. Outside Switzerland, Swisscom has a presence in the Italian market in the guise of Fastweb. In 2022 over 19,000 employees generated sales of CHF 11,112 million. It is 51% Confederation-owned and is one of Switzerland's most sustainable and innovative companies.
As Europe's leading provider of trust services, Swisscom (incl. the subsidiaries Swisscom Trust Services AG and ajila AG) enables its partners and end customers to implement innovative business models by providing identity-based services that can run digitally without media disruption. The Signing Service allows end customers and partners to easily use an electronic signature. Swisscom is the only European provider to offer a qualified electronic signature in the legal areas of the EU (eIDAS Signature Regulation) and Switzerland (ZertES Signature Act).
For more Information visit:
https://trustservices.swisscom.com
About Trust Valley
Trust Valley is the Swiss centre of excellence in digital trust and cybersecurity, created to bring together a unique ecosystem of over 400 organisations and 500 experts in the region. Its mission is to promote, connect and network public, academic, and private players in the sector, with the aim of enabling the development of innovations and talents in the fields, and start collaborative projects, such as the Tech4Trust startup acceleration programme and Trust4SMEs support programme in cybersecurity and digital trust for SMEs. The Trust Valley founders are the State of Vaud, the Republic and State of Geneva, EPFL, HEIG-VD, HES-SO Genève, IHEID, UNIGE, UNIL, ELCA, GCSP, Kudelski, SGS, SICPA and WiseKey. More information on trustvalley.swiss