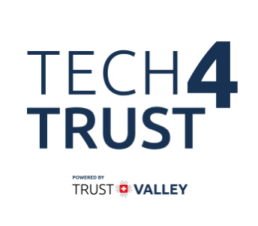 For start-ups building the future of digital trust and cybersecurity
An acceleration program that helps the world's most promising companies in the fields of cybersecurity and digital trust to get their business ready for market through top-notch mentoring, strategic support and training from leading industry partners.
During a 6-month program, Tech4Trust accelerates startups in cybersecurity and the digital trust space and help them secure funding, start pilots and future-proof their operations for faster and long-term growth.
Start-ups developing innovation solutions that tackle current digital trust challenges can apply until 28 August 2022.
Apply now
Gain strong visibility through demo days and roadshows
Meet key investors and secure your next funding round
Get exclusive coaching & mentoring sessions with high-level experts
Improve your strategy and operations through high-quality workshops
Win prizes worth up to 150K sponsored by État de Vaud, PwC Switzerland and Fortinet
Find synergies with corporate companies & academics and start collaborations
Startups developing innovative solutions to foster trust in our society and matching the following criteria are welcome to apply:
are incorporated for less than 7 years
already have a ready-to-market product or solution.
are in a customer acquisition phase.
are active in the program's focused expertise and fields.
are committed to attend all the program's activities.
Expertise
Threat Intelligence, Quantum security, Forensics, Neurotechnology, Industrial IoT, Critical Infrastructure, SCADA, Robotics, AI, Access Control, Cybersecurity, Authentication, Data Privacy, Blockchain, Anti-counterfeiting, Traceability, GDPR, Authenticity Verification, Cloud Security, Anonymized, Data Management, Edge Cloud, Digital self-determination, Digital Governance, Peace Tech
Fields
Space, Smart Cities, Agritech-food, Health, Finance & Insurance, Mobility, Education, Industrial Sector, ICT, Peace, Democracy, Humanitarian Aid, Sustainability
Selected Startups for Season 4
Agora Care: Agora Care is the first digital health company to develop a patient-centered platform for storage and communication of medical images allowing to share the results of imaging data with medical practitioners and healthcare providers anywhere anytime.
AllPriv: Allpriv provides edge Zero trust endpoint security managed by A.I., secured by blockchain
Altkimya: Altkimya is a data science startup that transforms IT and Telecom SMEs into smart data driven Managed Services Providers.
ANOZR WAY: ANOZR WAY is a french software editor dedicated to developing people centric cybersecurity solutions.
Atmosec: An holistic SaaS Security company with a unique approach to securing the connections between different SaaS Services
Authena: First Authenticity and Traceability as a Service eliminating counterfeiting & grey market, by providing real-time traceability,omnichannel mgmt, and direct consumer engagement at product level and extended to its collectible twin in the Metaverse.
Bitahoy: We equip companies with the necessary tools to respond to cybersecurity threats in their network reliably and fast.
BoxyHQ: BoxyHQ helps developers automate product security, and it provides low-code APIs to enable enterprise compliant security via simple and efficient integrations. Including SAML SSO, audit logs, directory sync, and privacy vault.
ClearSky: ClearSky designs Private Personalized & Proactive apps based on Edge Ai technology. We aim at transforming the way personal data are processed on mobile devices. We give the data ownership back to the user by reducing interaction with cloud services.
Cognitechs: With our agile real time risk management platform, we help companies keep their risks under control in complex conditions and changing environments.
Custody (formerly Cyblex Technologies): Our mission is to provide best-of-breed network detection leveraging a unique multi-timescale AI to protect your organisation heritage. We are based in Toulouse, France and our 12 people team is composed of 30% PhDs ready for liftoff.
DemoSquare: DemoSquare's machine-learning algorithms help legal and political experts save time and money by providing an automated, comprehensive, and efficient way to access, analyse, and monitor legal and political data.
EID Easy: eID Easy is helping businesses adopt high quality cryptographic identity based electronic signatures using local and popular signature methods to make sure all signatures are always valid and cannot be disputed.
ExTrac: ExTrac is a platform for mitigating on- and offline harms. Through our AI-powered system, users can map and track violent extremism and disinformation, forecast risk, and set up automated alerts for harmful activities – all in one place.
Osteron: Ostreon is a SaaS platform with an automated flow that leads the user to achieve complete enterprise-grade cyber-security protection.
Fidentity: We're an AI-tech startup from Bern in the digital trust market, that is, identity verification and digital signatures.
Lynx Technologies: Lynx platform connects brand owners to contract manufacturing suppliers, simplifying reception of supply chain data and ensuring its consistency.
Mithril Security: We provide a solution which protects sensitive data during AI analysis. Mithril Security's mission is to democratise Confidential AI, to help data scientists and engineers have access to sensitive data for their AI models.
Regsearch: A Google for Regulations
Passy: Passy is an innovative, dynamic company developing smart building flexibility, scalability and performance.
Resilio: Resilio allows organisations to securely achieve a sustainability IT transition. Through our Swiss based solution, our clients can access information on their footprint through a transparent process while maintaining the control of their data. Our solution will guide our clients on strategies to reduce their impact as their costs.
Scribe Security: SCRIBE is an end-to-end software supply chain security platform that secures code throughout your entire software supply chain and throughout your product's life cycle, from development to delivery to update.
Sequal: Sequal provides end-to-end information security management to SMEs, according to the ISO 27001 standard. We do this by providing our ISO 27001 auditors, consultants and tools.
Snowpack: Snowpack develops and operates SNO, the first invisibility overlay network mixing anonymity and security creating an independence layer to the Internet infrastructure.
Synergy Quantum: Synergy Quantum provides quantum communication technology that has been developed with CERN scientists, through investments in Quantum companies and collaboration with National Science and Defence Ministries.
TTM Holdings: Our main objective is to provide robots and artificial intelligence managed entirely by DAPP users in a transparent and autonomous way thanks to the various technologies offered by the blockchain. Transparency is the basis of our philosophy.
Startups selection by Advisory Board
Announcement of selected startups at Trust Valley Day, including pitch and booth.
Rolex Learning Center, EPFL
Demo Day Geneva at Trust in Innovation Conference
Zug Roadshow in partnership with Crypto Valley
Zurich Roadshow in partnership with PwC Switzerland
Insomnia'hack Roadshow at SwissTech Convention Center (EPFL)
Silicon Valley Roadshow at RSA Conference
Wallis Roadshow in partnership with Canton du Valais, CCI-Valais, Groupe Mutuel, HES-SO Valais & Cybersecurité valais
Tech4Trust Awards Ceremony @ Genev'hack
seed to Serie A companies
leading industry partners
What people say about the Tech4Trust
« The Tech4Trust community has enabled us to forge successful strategic partnerships such as the one with Microsoft Azure. This partnership strengthens the security around patient data that is at the heart of the KimboCare initiative. We are feeling very proud and grateful for our time and experience with Tech4Trust. »
Franck Tiambo
Founder @ Kimbocare
« The Tech4Trust program allowed us to connect with the amazing local network of experts as well as, all together will other startups, present an incredible diverse offering. »
Harry Halpin
CEO @ Nym Technology
« The Tech4Trust program has been an incredible springboard for our young startup specialized in the field of data encryption in public clouds. We were able to exchange with remarkable coaches and above all benefit from an unparalleled visibility. The support of the canton of Vaud and the TrusValley has been a great help to start our developments and market our solutions to our first customers. »
Nagib Aouini
CEO @ DuoKey
"We were very fortunate to have extremely qualified mentors who allowed us to better orient our strategy and thanks to which we were able to obtain really relevant information and recommendations which helped us to move forward. "
Julian Naftule
EX0-SYS
« The program is an unique opportunity to meet high-motivated innovators and experienced folks with a security mindset. It provides a platform for visibility at the national level, with an appearance at the Swiss CyberSecurity Days. It does not get better than that. »
Laurent Balmelli
CEO @ Strong.Network
See the program in action
Martin Von Muralt
Réseau national de sécurité
Lennig Pedron
Director @ Trust Valley
Flaminia Giuncato
Program Manager @ Trust Valley
Josua Rochat
Program Lead @ Trust Valley