Rencontrez les startups sélectionnées pour la saison 4 du Tech4Trust
Nous sommes ravis d'annoncer que 26 startups ont été sélectionnées pour la 4ème édition du programme d'accélération Tech4Trust, dont la mission est de développer l'avenir de la confiance numérique et de la cybersécurité.
À partir d'aujourd'hui, ces 26 startups vont démarrer un voyage intense de 6 mois conçu pour améliorer leur activité, préparer leur avenir et accélérer leur croissance. Le programme comprend 10 événements uniques de type « roadshow » permettant aux fondateurs de se faire connaître et de rencontrer les principales parties prenantes, notamment les investisseurs, les talents et les clients. Ils bénéficieront également de l'exposition au réseau de Trust Valley et aux principaux partenaires industriels, issus des secteurs universitaire, public et privé, grâce à notre pool de plus de 70 coachs et mentors. Les startups sélectionnées participeront également à 10 ateliers dédiés pour acquérir des compétences commerciales essentielles.
Le groupe de cette année comprend des startups de 8 pays différents, avec des équipes venant de Suisse, du Royaume-Uni, d'Estonie, de France, d'Allemagne, d'Israël, d'Italie et du Luxembourg, faisant de Tech4Trust un programme véritablement international.
Les startups sélectionnées pour la Saison 4 de Tech4Trust sont, par ordre alphabétique :
---
Agora Care
Switzerland
Agora Care is the first digital health company to develop a patient-centered platform for storage and communication of medical images allowing to share the results of imaging data with medical practitioners and healthcare providers anywhere anytime.
---
AllPriv
France
Allpriv is one of the 6 EU Startups selected to showcase its innovation (the only in cybersecurity) and also is finalist at the "European Healthcare Procurement awards" also the only cybersecurity company. Edge Zero trust endpoint security managed by A.I., secured by blockchain
---
Altkimya
Switzerland
Altkimya is a data science startup that transforms IT and Telecom SMEs
into smart data driven MSPs* (*Managed Services Providers)
---
ANOZR WAY
France
ANZOR WAY is a french software editor dedicated to developing people centric cybersecurity solutions, founded by a former officer of intelligence services with cyberdefense expertise, and a specialist of human risk from insurance business.
---
Atmosec
Israel
An holistic SaaS Security company with a unique approach to securing the connections between different SaaS Services
---
Authena
Switzerland
First Authenticity and Traceability as a Service eliminating counterfeiting & grey market, by providing real-time traceability,omnichannel mgmt, and direct consumer engagement at product level and extended to its collectible twin in the Metaverse.
---
Bitahoy
Germany
We equip companies with the necessary tools to respond to cybersecurity threats in their network reliably and fast.
---
BoxyHQ
United Kingdom
BoxyHQ helps developers automate product security, and it provides low-code APIs to enable enterprise compliant security via simple and efficient integrations. Including SAML SSO, audit logs, directory sync, and privacy vault.
---
ClearSky
Switzerland
ClearSky designs Private Personalized & Proactive apps based on Edge Ai technology. We aim at transforming the way personal data are processed on mobile devices. We give the data ownership back to the user by reducing interaction with cloud services.
---
Cognitechs
Switzerland
With our agile real time risk management platform, we help companies keep their risks under control in complex conditions and changing environments.
---
Cyblex Technologies
France
Our mission is to provide best-of-breed network detection leveraging a unique multi-timescale AI to protect your organisation heritage. We are based in Toulouse, France and our 12 people team is composed of 30% PhDs ready for liftoff.
---
DemoSquare
Switzerland
DemoSquare's machine-learning algorithms help legal and political experts save time and money by providing an automated, comprehensive, and efficient way to access, analyse, and monitor legal and political data.
---
EID Easy
Estonia
eID Easy is helping businesses adopt high quality cryptographic identity based electronic signatures using local and popular signature methods to make sure all signatures are always valid and cannot be disputed.
---
ExTrac
United Kingdom
ExTrac is a platform for mitigating on- and offline harms. Through our AI-powered system, users can map and track violent extremism and disinformation, forecast risk, and set up automated alerts for harmful activities – all in one place.
---
Osteron
France
First Class Cyber-Security Solutions For Individuals. Ostreon is a SaaS platform with an automated flow that leads the user to achieve complete enterprise-grade cyber-security protection.
---
Fidentity
Switzerland
We're an AI-tech startup from Bern in the digital trust market, that is, identity verification and digital signatures.
---
Lynx Technologies
Switzerland
Lynx platform connects brand owners to contract manufacturing suppliers, simplifying reception of supply chain data and ensuring its consistency.
---
Mithril Security
France
We provide a solution which protects sensitive data during AI analysis. Mithril Security's mission is to democratise Confidential AI, to help data scientists and engineers have access to sensitive data for their AI models.
---
Regsearch
Luxembourg
A Google for Regulations
---
PasSy
Italy
Passy is an innovative, dynamic company with experience and successes in the IT market, Cloud Platform SW and new technologies, with strategic partnerships and solid relationships. Main focus is in Smart Building flexibility, scalability and performance.
---
Resilio
Switzerland
Resilio allows organisations to securely achieve a sustainability IT transition. Through our Swiss based solution, our clients can access information on their footprint through a transparent process while maintaining the control of their data. Our solution will guide our clients on strategies to reduce their impact as their costs.
---
Scribe Security
Israel
SCRIBE is an end-to-end software supply chain security platform that secures code throughout your entire software supply chain and throughout your product's life cycle, from development to delivery to update.
---
Sequal
Switzerland
We provide end-to-end information security management to SMEs, according to the ISO 27001 standard. We do this by providing our ISO 27001 auditors, consultants and tools.
---
Snowpack
France
Snowpack develops and operates SNO, the first invisibility overlay network mixing anonymity and security creating an independence layer to the Internet infrastructure.
---
Synergy Quantum
Switzerland
Synergy Quantum, registered in Geneva 2018, provides quantum communication technology that has been developed with CERN scientists, through investments in Quantum companies and collaboration with National Science and Defence Ministries.
---
Trustia
Bridging traditional finance tools and the digital era.
Invest securely in digital assets with our professional all-in-one platform dedicated to digital assets.
---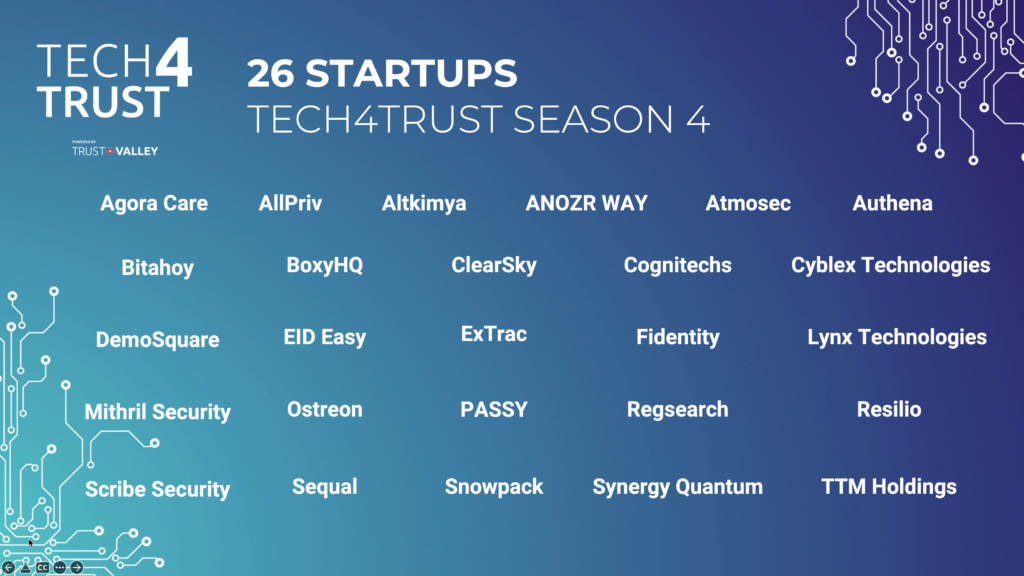 À propos de Tech4Trust
Tech4Trust est un programme d'accélération de 6 mois conçu pour aider les entreprises en phase de démarrage à construire l'avenir de la confiance numérique et de la cybersécurité. Dans le cadre du partenariat public-privé Trust Valley, le programme est géré par le parc d'innovation de l'EPFL, qui accueille plus de 200 innovations et grandes entreprises.
À propos de Trust Valley
Située dans la région du lac Léman, Trust Valley est un partenariat privé-public dédié à la confiance numérique et à la cybersécurité dont la mission est de favoriser la confiance, l'innovation et les collaborations dans l'économie numérique.