The Trust4SMEs program continues: Looking back on the latest training sessions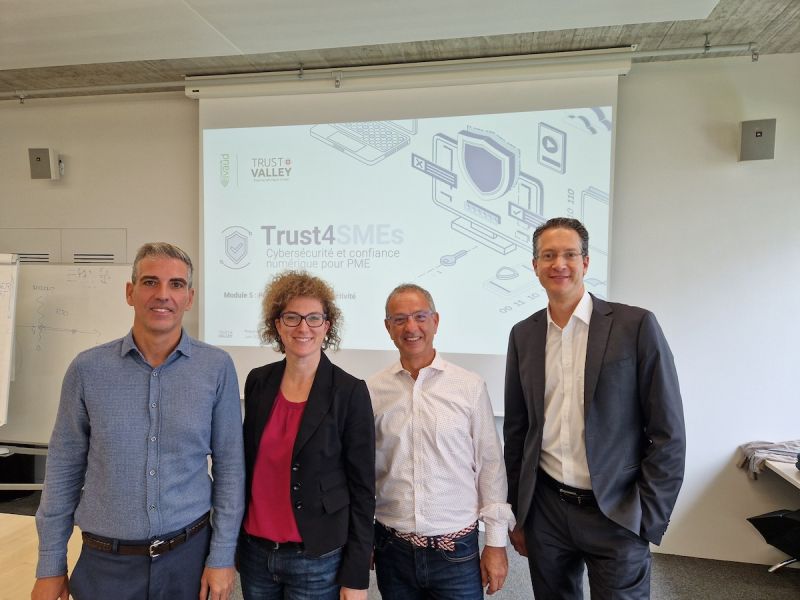 After the summer break, the Trust4SMEs program, which supports 25 SMEs in French-speaking Switzerland in the field of cybersecurity and digital trust, continues. In the last few months, the 25 SMEs of the program have participated in two training modules.
On Wednesday, September 28, an interactive and practical training module was held on the Business Continuity Plan and communication in case of crisis. The objective? To provide the key skills to respond and recover effectively from a cyber attack and create a business continuity plan.
Between theory and role-playing, the exchanges were rich and the theme was addressed in a concrete way. Leonardo Vitali, BCP specialist and IT Deputy Manager at OCAS, and Christian Marton, Senior Consultant at Kudelski Security, presented the theoretical basis of business continuity in a company. They then discussed how to start a business continuity plan and the key factors for its success. François Rodriguez, COO at RealTyme, discussed how to ensure the continuity of communication channels in case of an attack.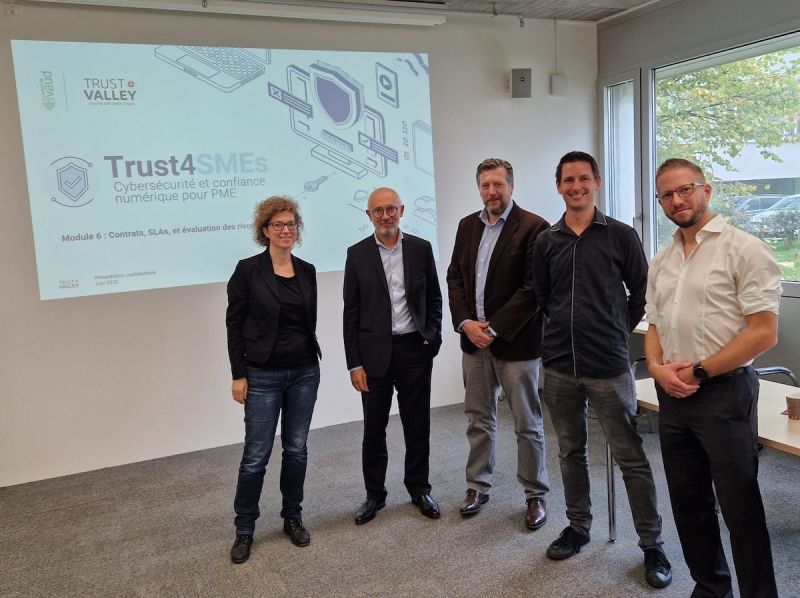 Most recently, on Thursday, October 13, 2022, the 25 SMEs in the Trust4SMEs program participated in the training module on contracts, SLAs and process evaluation.
Nicolas Vernaz, Director of Redstone Consulting, led a practical workshop on understanding the technological and regulatory environment in relation to service providers in terms of service level agreements, benefits and anticipating disputes.
Benoit de Jocas, Senior Manager Cybersecurity, Privacy & Resilience at PwC Switzerland, followed with how to analyze and assess one's IT and accounting environment and processes in order to identify potential risks and threats, to best protect one's systems and data, and to protect one's business assets.
Finally, Dominique Assing, Head of Swiss Cybersecurity Business Unit at Almond Consulting, offered insights on how to assess suppliers in a consistent manner, including monitoring the evolution over time.
In this interactive and practical session, companies were able to bring and work on examples of documents on which the experts provided advice, resulting in rich exchanges around concrete cases.
The next module of the Trust4SMEs program is scheduled for November 2, 2022 and consists of a training session for executives and board members. This session aims to give the keys to understanding the roles and responsibilities of board members in order to identify the risks of attacks and opportunities, particularly for business development through digital trust.